Hi,
This is your Administrator.
First time nyo po bang gumamit ng forum.
Ganyan din po ako dati, thats why para hindi po kayu mahirapan, ginawa ko po itong topic na ito para sa maga gustong sumali at magshare ng kanila experience as a Project Associate ng I.T.I.S. The goal is to invite all the PA's in the whole country. Patulong nalang po na iinvite yung iba nating mga kasama.
Instructions on Registration:
Click the Spoiler to view the images
A. The first time you enter the forum, there will be a log-in pop-up.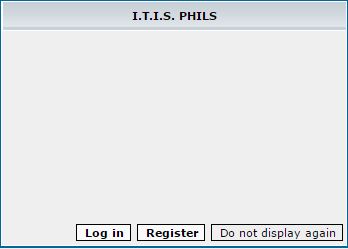 Log-in
: Click if your already a validated member of the forum.   
Register
: Click if you want to become a forumer. Lots of Benefits.

Do not display again
: Click if you already know what your doing.
B. Terms and Conditions
  Click the "I Agree to these Terms" to proceed to the next step.                           
C. Fill-up the Registration Information form to proceed to the next step.   
  ***Always remember the E-mail you used when filling up the register information to aviod Log-in failure. 
D. Password Confirmation and Human Verification form.   
   after filling up the form just click
save
.
E. Closing the tab or the Chrome Browser   
F. Kindly go to your E-mail Inbox and check this automatic message sent by the forum your registering with.   
G. After opening the message, Youll see that the forum have recognized your registration. All that is left to do is to click the Blue Text saying "Click here". I've encircled it with a blue marker for your own convenience.

H. There you go! After clicking the blue link, you will be redirected a page saying that your account has been validated.      
I. Once your logged-in to the forum. please check your Account at the right side of the log-out button to confirm that you successfully entered the forum.  
  Once your inside the forum just be kind and have fun.